September Book Club Meeting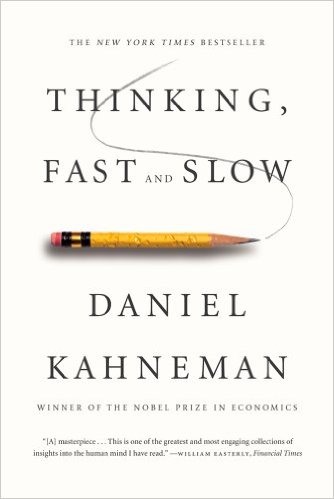 The September meeting of the Book Club will be on Tuesday, September 4, at 7:30 p.m. at the home of Jon Langbert (3990 Vitruvian Way, Addison 75001). We will discuss Thinking, Fast and Slow, by Daniel Kahneman. "Drawing on decades of research in psychology that resulted in a Nobel Prize in Economic Sciences, Kahneman takes readers on an exploration of what influences thought, example by example. System 1 and System 2, the fast and slow types of thinking, become characters that illustrate the psychology behind things we think we understand but really don't, such as intuition. Kahneman's transparent and careful treatment of his subject has the potential to change how we think, not just about thinking, but about how we live our lives.
Thinking, Fast and Slow gives deep—and sometimes frightening—insight about what goes on inside our heads: the psychological basis for reactions, judgments, recognition, choices, conclusions, and much more." For those who like to read ahead, the October book will be The Bees, by Laline Paull. Please note that the Book Club generally meets on the second Wednesday of each month, but there is a change in the schedule for the September meeting.

Date: September 4, 2018
Time: 7:30 pm
Location: 3990 Vitruvian Way, Addison, TX 75001
Cost: FREE. To RSVP, please e-mail Jon at jlangbert@gmail.com.
For more information about the Book Club please contact Lee Lowenstein at lee.loewenstein@gmail.com or Adrienne Dominguez at adrienne.dominguez@tklaw.com.
When:
7:30PM - 9:30PM Tue 4 Sep 2018, Central timezone

Where:
Home of Jon Langbert
3990 Vitruvian Way
Addison, TX 75001
[ Get Directions ]