Talent.Service.Impact: Non-Profit Fair Featuring Cynt Marshall, CEO Dallas Mavericks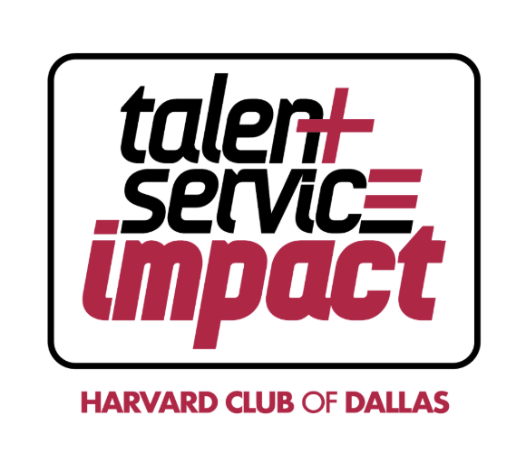 Please join us and the leaders of incredible local non-profits for a Volunteer Fair including a discussion with Cynt Marshall, CEO of the Dallas Mavericks. Special thanks to our host, Pegasus Park, for providing us the use of their lovely facility for this event.
Featuring: After8toEducate, The Artist Outreach, AT LAST!, Austen's Autistic Adventures, Boys and Girls Club of Collin County, Cedars Union, Community Partners of Dallas, DFW Angels, DME Exchange of Dallas, Educational First Steps, Generations Institute for the Creative Arts, Gifted Education Family Network, Grant Halliburton Foundation, Greenspace Dallas, Groundwork DFW, Literacy Achieves, My Possibilities, Rosa es Rojo, Senior Source, Woven Health
*We welcome additional nominations. Please see below for qualifying criteria.*

Partner Clubs
Columbia Club of Dallas, Princeton Club of Dallas

What is Talent.Service.Impact?
Here in North Texas, we have a community with great civic consciousness and philanthropic spirit. Our region is also home to many outstanding local non-profits. Yet, as individuals, we may not always be aware of how and where we can be the most helpful with our time and unique talents.

The goal of Talent.Service.Impact is to help fill that knowledge gap by identifying these opportunities and introducing them to our exceptional community. An important part of this program is the Volunteer Fair. Please join us to meet the leaders of these organizations in person to learn about their unique, skilled volunteering opportunities, as well as paths to Board membership.

In addition to ample networking time with one another and the non-profit leaders, the evening will feature Cynthia (Cynt) Marshall, the inspiring CEO of the Dallas Mavericks who has transformed the culture of the Mavericks organization while also being an influential leader in the North Texas community. Author of "You've Been Chosen: Thriving Through the Unexpected", Cynt is an uplifting and motivating speaker who is a testament to the motto "People don't care how much you know until they know how much you care."

There are also opportunities for additional non-profit nominations.
We ask that the non-profits:
1. Are based locally and act locally. Our focus is on building and creating connections within our North Texas Community.
2. Have opportunities for "skilled" volunteers, which can range from help with program development or marketing to specific technical needs like website development, legal or accounting. Having a clear path to board membership is also a big plus. Our organizing team is happy to work with non-profits to help identify these opportunities.

Cynt Marshall is currently Chief Executive Officer of the Dallas Mavericks, the first Black female CEO in the history of the National Basketball Association. In this role, Cynt has been a dynamic force for inclusion and diversity, just as she was during her 36-year career at AT&T. Her work at AT&T as SVP for HR, for example, landed AT&T in the top 3 on Diversity Inc's 2017 Top 50 list of companies and, for the first time, placed AT&T on Fortune's 100 Best Companies to Work For list in 2017 (one of only two Fortune 50 companies).

Widely recognized for her visionary leadership, Cynt is the recipient of numerous honors and awards. In 2021, Forbes considered Cynt as one of "15 of the World's Most Inspiring Female Leaders". Other recognitions include Adweek's 30 Most Powerful Women in Sports; the Girl Scouts of America Lifetime Achievement award; Women of Power Legacy Award by Black Enterprise; National ATHENA® Leadership Program Award; The Network Journal's 25 Most Influential Women in Business; "50 Most Powerful Women in Corporate America" by Black Enterprise magazine; Ebony magazine's "Power 100" list; Leadership North Carolina Governor's Award for lifetime achievements.

Cynt graduated from the University of California-Berkeley with degrees in Business Administration and Human Resources Management and holds four honorary Doctorate degrees. She has chaired a variety of non-profit boards and is currently on the board of Dallas CASA, Dallas Regional Chamber, Texas Women's Foundation, Texas 2036, T.D. Jakes Foundation, and a member of the Executive Leadership Council (ELC). She is also on the Board of Directors of BGSF Staffing and Blinktbi, Inc.

DETAILS:
Date: January 25, 2024
Time: 5:30 pm - 8:30; discussion with Cynt Marshall from 7-7:45
Location: Pegasus Park, 3000 Pegasus Park Dr, Dallas, TX 75247
Food and beverages to be provided thanks to our event Sponsors
Pricing: In order to make this event accessible to all, we are offering the option of free admission. We just appreciate knowing how many to expect in order to order food. So, please sign up! Also, we appreciate any amount of donations to cover the cost of the evening. EXTRA DONATIONS CAN BE MADE HERE.
Guest Tickets: Free
Sponsor Tickets*: $100
Platinum Sponsor Tickets*: $250
Event Sponsors: $500
* Sponsors will be recognized in our announcements and at the event. If you wish to remain anonymous please just let us know.
Additional funds beyond the direct event costs will be distributed equally among the non-profits.
All donations and sponsorship tickets are tax-deductible.
Thank you to our sponsors
Event Sponsor: Jeff Helfrich
Platinum Sponsor: Rebecca Posten
Sponsors: Ahava Silkey-Jones, Jimmy Tran