Family SIG: Children's Book Reading with Nancy Churnin, AB '78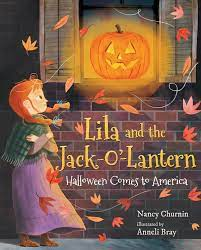 Please join us to meet fellow families with young children! Author Nancy Churnin AB '78 will be doing a book reading from her book Lila and the Jack-0'-Lantern, Halloween Comes to America. In addition to the reading, there will be time to visit with other families while the kids do arts and crafts projects.
Lila and the Jack O'Lantern, illustrated by Anneli Bray, is a special historical fiction story that shows kids that we have Irish immigrants to thank for the Halloween customs they love. When Lila and her family leave Ireland for the United States, Lila misses many things, but especially Halloween. Each year, she and her siblings look forward to tricking a sly spirit named Jack by carving turnips into jack-o'-lanterns and walking the streets of their small town in ghostly costumes. Now, with no turnips in sight, can she bring the spirit of the holiday to the crowded city streets of her new home?

Nancy is an award-winning author of chapter books, picture books and board books and former theater critic of The Dallas Morning News living in North Texas. Her Dear Mr. Dickens won the 2021 National Jewish Book Award, Sydney Taylor Honor, Junior Library Gold Collection and National Press Women Award and is now the subject of a virtual program at The Charles Dickens Museum in London. Other honors include: The South Asia Book Award, Sydney Taylor Notables, Silver Eurekas, Anne Izard Storytellers' Choice Award, Bank Street College Best Books for Kids list, Texas 2X2 and Topaz lists and more.
Nancy would enjoy joining anyone interesting in grabbing lunch with the kids next door at Eatzis after the event.

DETAILS:
Date: September 30, 2023
Time: Arrival - 10:00 am CT; Reading - 10:30 am CT
Location: Interabang Books, 5600 W Lovers Lane #142, Dallas, TX 75209
Cost: Free
Event Questions: Nancy Churnin nancychurnin@gmail.com

When:
TOMORROW
10:00AM - 11:00AM Sat 30 Sep 2023, Central timezone

[ Get Directions ]
RSVP Here...