Dallas Black Dance Theatre's The BIG Dance

Calling ALL DFW H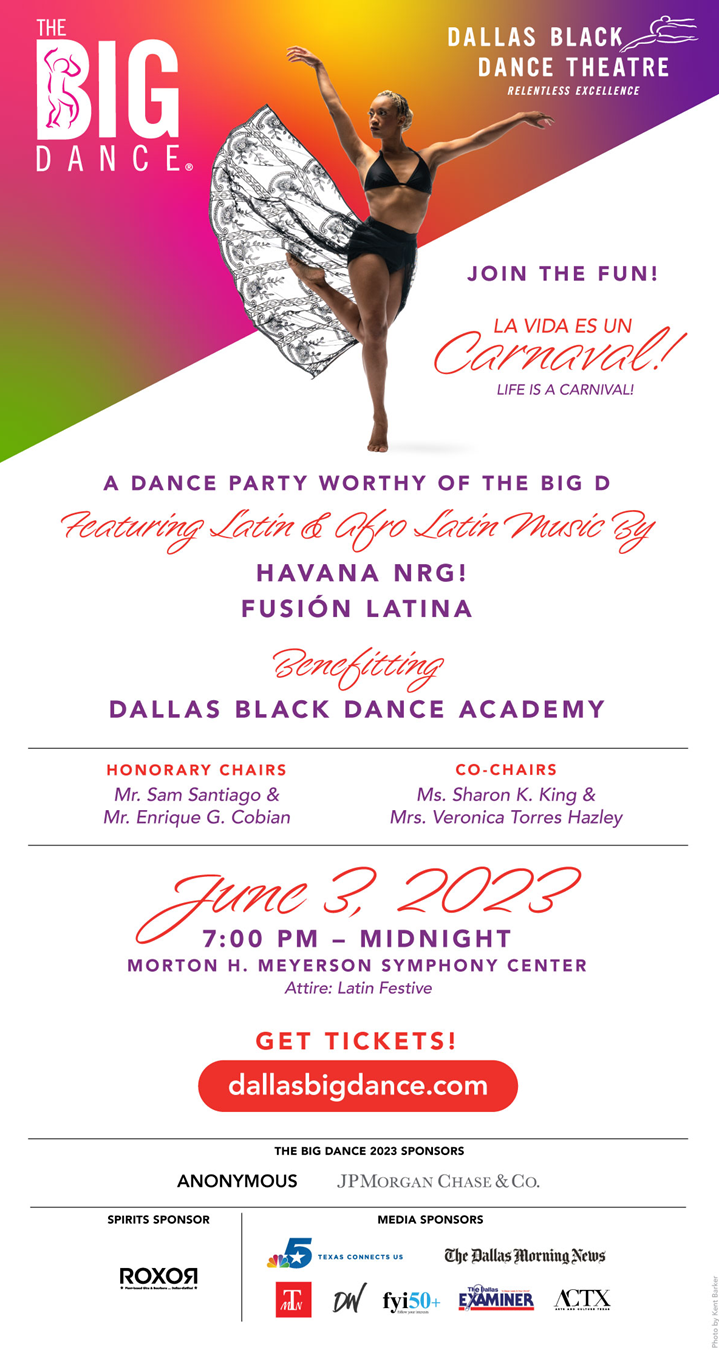 arvard alumni and guests: You're invited to celebrate the arts and benefit arts education at the Dallas Black Dance Theatre's The BIG Dance, a city-wide dance party worthy of the BIG D! The 2023 event will be an unforgettable night with the theme La vida es un carnaval! or "Life is a carnival!" – featuring live music from traditional and contemporary local Dallas artists including the premier Cuban style orchestra Havana NRG!, the full experience salsa band Fusion Latina, and Mariachi Zacatecas. Maria Guerrero of NBC 5 will emcee this event, and Amanda Cristina Salsa will lead the dance floor with lessons in salsa, bachata, merengue, and reggaeton styles. The night will include food and spirits, festive décor, and professional dance vignettes from Dallas Black Dance Theatre dancers to create the flair of Latin and Afro-Latin culture!

All proceeds will benefit the Dallas Black Dance Theatre's Academy by providing a 40% reduction in tuition fees for more than 300 students enrolled in its on-site academy training classes at the arts district facility. This event also supports in-school dance residency programs for 2000+ students in 24 area DFW schools. If you are unable to attend The BIG Dance in person, you may choose to experience the festivities via a live streaming ticket, which includes a customized salsa dance lesson and live music. All ticket levels, including live streaming, come with Academy underwriter recognition in DBDT programs for 12 months. When purchasing in-person or live streaming tickets or when making a donation, please type "Harvard Club of Dallas" under "Anything else we should know?"

This event sells out each year, so don't miss the first BIG dance party of summer! For more information, to purchase tickets, or to make a donation, visit dallasbigdance.com. RSVP below for coordination of a Harvard Club of Dallas alumni meet-up during the pre-party reception at 6:30 p.m.








DETAILS
Date: Saturday, June 3, 2023
Time: 7:00 p.m. – Midnight
Location: Morton H. Meyerson Symphony Center, 2301 Flora Street, Dallas, TX 75201
Theme: La vida es un carnaval! or "Life is a carnival!"
Attire: Latin Festive
Ticket Link: dallasbigdance.com
Questions: Contact Host Committee Member Geralyn Richard (HKS '05) at geralyn.richard@gmail.com
When:
7:00PM - 11:59PM Sat 3 Jun 2023, Central timezone

Where:
Morton H. Meyerson Symphony Center
2301 Flora Street
Dallas, TX 75201
[ Get Directions ]
RSVP Here...