Dallas Black Dance Theatre's Cultural Awareness Performance
**Tickets will close at noon on Thursday, February 6, 2023 for premium group seating, at which time any remaining reserved group seating will be released to the general public.**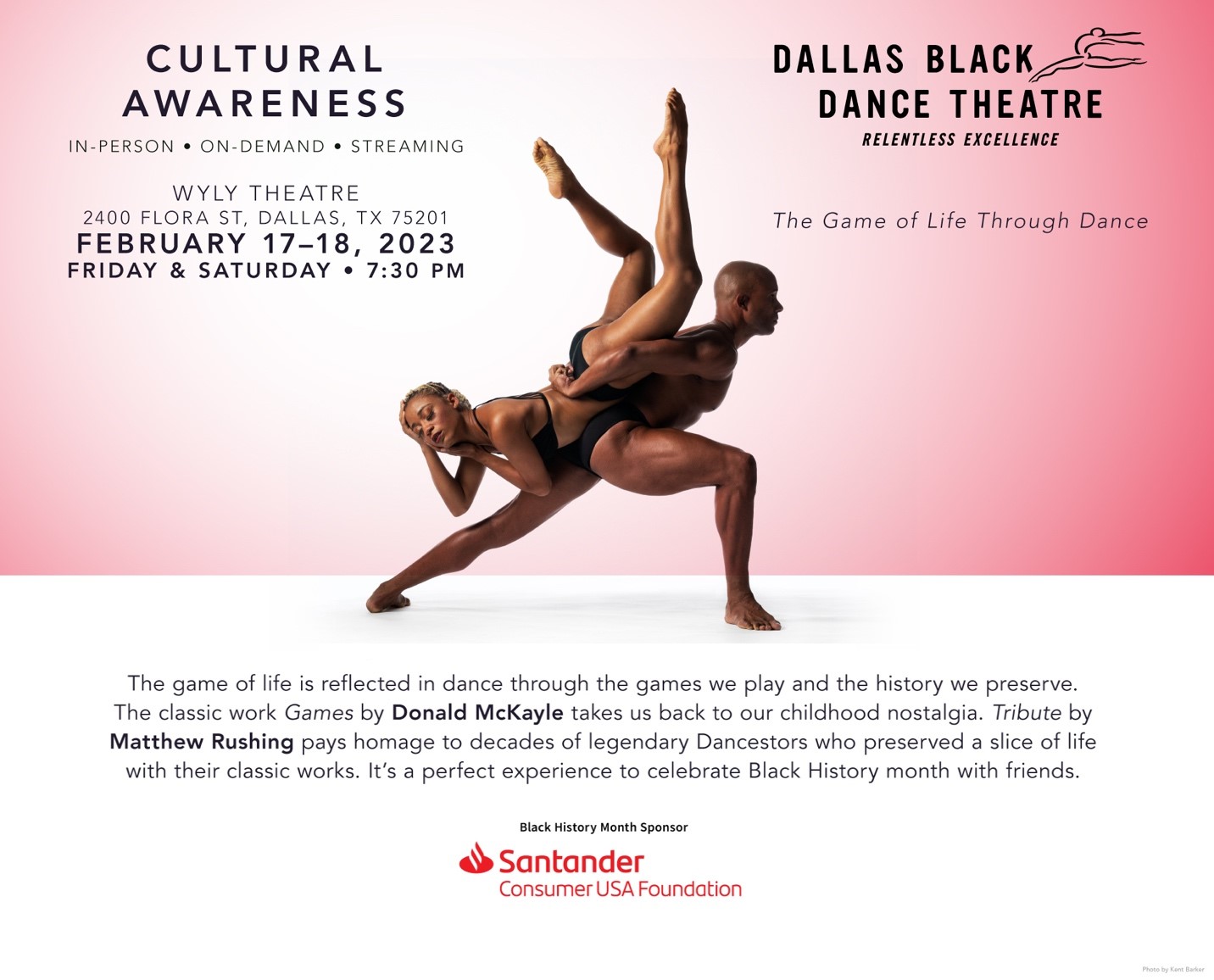 Celebrate Black History Month with the Harvard Club of Dallas by joining us for an inspired evening of dance at the Dallas Black Dance Theatre's Cultural Awareness performance, "The Game of Life through Dance," on Friday, February 17, 2023 at 7:30 p.m. This Black History Month event will include an optional "meet and greet" session wtih DBDT dancers for Harvard Club of Dallas members and guests following the performance.

Experience Games by Donald McKayle (1930 – 2018), renowned dancer, choreographer, teacher, director, and writer. Games premiered in 1951 as McKayle's first major work when he was only 21 years old. As would become standard for the singular career of the five-time Tony nominee, Games is recognized as a classic in the cannon of modern dance.

"Games dramatically observes city children at play…the serious business of being a child. It is divided into three uninterrupted sections: PLAY, where we meet the children, see their interaction, and experience the joys of childhood; HUNGER, which explores living and growing with deprivation; and TERROR, in which fear and brutality wipe away innocence. Games is unique in its presentation as dance theatre in that there is no instrumental music. Songs from the rich heritage of oral transmission in both the rural and urban communities of the United States accompany the dance movement and are performed a cappella by the cast of singers and dancers."
(Source: http://www.donaldmckayle.com/games.html)

Witness the metamorphosis of the pioneering artistry of "dancestors" to today's generation of modern American dancers in Tribute by accomplished dancer and choreographer Matthew Rushing. Judith Jamison, one of modern dance's most respected and celebrated artists and Artistic Director Emerita of the Alvin Ailey American Dance Theater, witnessed and highly regarded Rushing's "spiritual fervor" and passion for dance during his 20-year career with the company. Tribute brings that spiritual fervor to the stage and bridges the past and present craft of dancers of color.

DETAILS:
Date: February 17, 2023
Time: 7:30 pm
Location: Dee and Charles Wyly Theatre at the AT&T Performing Arts Center
Parking: https://www.attpac.org/your-visit/parking/
Cost: Harvard Club of Dallas Members: $65.00
Non-Member/Guest: $65.00
Questions: Please contact velda@sacleadership.com
Priority tickets are closed. If you have your own tickets and are attending yourself, you are welcome to join us to meet the dancers after the performance. Please let Geralyn Richard know that you will be there so that we can let you know where to meet after the performance. geralyn.richard@gmail.com