Frontiers of Biomedical Engineering at UTSW
This evening is possible thanks to the generous support of our long-time community member, Charles Jones.
Merging traditional medical research with biomedical engineering methodologies presents unique opportunities to transform clinical care. UT Southwestern, long acclaimed for its success in pioneering new clinical treatments is now also a leader in Biomedical Engineering, which utilizes engineering principles and quantitative science to uncover new biological phenomena, understand human health, and improve treatment outcomes.

To learn more about this exciting work, please join the Harvard Club of Dallas at UTSW to meet two brilliant medical innovators: Samuel Achilefu, PhD (Professor & Chair, Department of Biomedical Engineering) and Dr. Bhavya Shah (Assistant Professor of Radiology).

Dr. Achilefu will share how the Department of Biomedical Engineering's mission, which includes the development of portable, low-cost, and efficient devices to enable clinicians to reduce health disparity and prevent the onset of diseases. Dr. Shah's talk will focus on his research in High-Intensity Focused Ultrasound (HIFU) for treating movement disorders. Thisis now being offered at UTSW for patients with essential tremors (ET) and tremor-predominant Parkinson's disease (TPPD). He will also discuss his active collaboration with the biomedical engineering department at the University of Texas at Dallas in the development of new tools.

Dr. Samuel Achilefu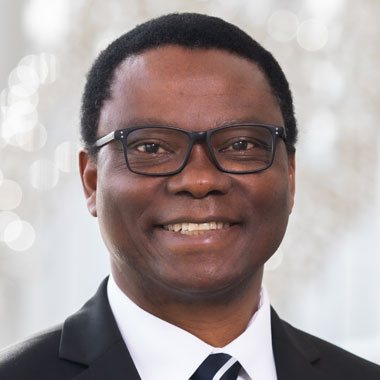 Dr. Samuel Achilefu, Ph.D. is nationally recognized for his expertise in molecular imaging and its applications in treating human diseases. The Doctor has been selected as the inaugural chair of the new Department of Biomedical Engineering (BME) at UT Southwestern Medical Center.

Dr. Achilefu holds 65 U.S. patents and was recently elected to the National Academy of Medicine for his discovery of cancer avid materials and a wearable cancer-imaging goggle system that highlights cancer cells, providing real-time guidance to surgeons in the operating room to ensure the complete removal of cancerous tissue and shortening the patient time on the operating table.

Born and raised in Nigeria, Dr. Achilefu studied chemistry and materials science at the University of Nancy in France as a French Government Scholar before completing postdoctoral training in oxygen transport in biological systems and hematological science at Oxford University in the United Kingdom.

Dr. Bhavya Shah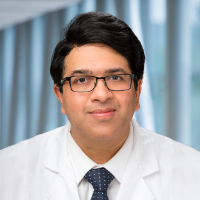 Dr. Bhavya Shah is an Assistant Professor of Radiology He holds a secondary appointment as an Assistant Professor of Neurosurgery.

Dr. Shah holds five patents and three recently granted provisional patents for an array of medical devices. He is the co-founder and Chief Medical Officer of Chimeric Advanced Medical Devices, based in Palo Alto, California.

Dr. Shah holds a bachelor's degree in biology, biomedical engineering, and philosophy from Washington University in St. Louis. He earned his medical degree through the combined training program at the University of Missouri School of Medicine in Columbia and received his radiology residency training at Boston Medical Center. He then obtained advanced training through a fellowship program at Stanford University School of Medicine in Stanford, California.

This evening offers a unique opportunity to listen and learn from these exceptionally talented researchers.
Q&A will follow each speaker.
Perhaps their work will prove to be a benefit to you, your family or someone you know.
*******************
UT Southwestern, one of the nation's premier academic medical centers, integrates pioneering biomedical research with exceptional clinical care and education. The institution's faculty has received six Nobel Prizes, and includes 26 members of the National Academy of Sciences, 17 members of the National Academy of Medicine, and 14 Howard Hughes Medical Institute Investigators, and has been named one of Texas's Best Hospitals.

DETAILS:
Date: Tuesday, July 11, 2023
Time: 6:00 - 6:45 pm Reception with wine and hors d'oeuvres
6:45-8:00 pm Presentations
Location: UTSW Boone Pickens Biomedical Building, 6001 Forest Park Road, 14th Floor, Dallas, TX 75235 (marked ND on the map below).
Parking: Self parking available in the garage adjacent to the Pickens Biomedical Building.
Cost: Ticket will include a cocktail reception with hor d'Oeuvres, wine and non-alcoholic drinks
Harvard Club of Dallas Members: $20.00

Guest/Non-Member: $20.00

Harvard Club of Dallas Recent Graduates: $10.00

MIT Club of Dallas Members: $20.00

Columbia Club of Dallas Members: $20.00

Yale Club of Dallas Members: $20.00

Princeton Club of Dallas Members: $20.00

Tsinghua Club Members: $20.00

NYU Alumni Club of Dallas Members: $20.00



Questions: Please contact velda@sacleadership.com