February Book Club Meeting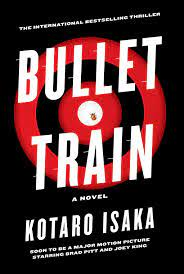 The February meeting of the Book Club will be on Wednesday, February 9, at 7:30 p.m. at the home of Susan Bowman. We will be discussing the novel, "Bullet Train" by Kotaro Isaka. Bullet Train is a thriller full of double-crosses and twists as it takes readers on a high speed train in Japan along with at least five assassins.
The Book Club generally meets on the second Wednesday of each month. For those who like to read ahead, our March selection will be "Together in a Sudden Strangeness: America's Poets Respond to the Pandemic," edited by Alice Quinn.







DETAILS:
Date: Wednesday, February 9, 2022
Time: 7:30 pm
Location: Home of Susan Bowman. Please RSVP to Susan Bowman at scbowman@mcare.com if you plan on attending. Susan will provide her address to any newcomers. In the event that covid cases are still elevated, we will meet virtually as we did in January; in that case a link will be sent to participants before the meeting.
Cost: FREE
For more information about the Book Club please contact Lee Loewenstein at lee.loewenstein@gmail.com or Adrienne Dominguez at adrienne.dominguez@tklaw.com.