Food and Wine SIG: Virtual Guided Wine Tasting with Texas Based Lost Oak Winery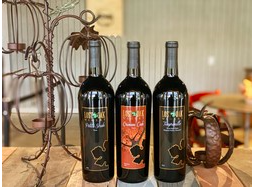 Join expert winemakers for a virtual wine-tasting of exceptional wines from Texas-based Lost Oak Winery on Saturday Dec 5th at 5pm. Guided by their winemakers, Jim and Carl, we will taste three of their leading wines: Crimson Oak, Petite Sirah and Tempranillo. For those not familiar with the winery industry's rapid growth in Texas, you will be pleasantly surprised at the quality and breadth of our very own Texas produced wines.
To join us in the tasting, you can sign up here (on the Lost Oaks website) by purchasing the three wines. Please try to purchase the wines before Thanksgiving to make sure they arrive before the tasting. The zoom link to the virtual tasting will be sent to the email address you use when ordering the wines within 24 hours of the tasting. If you do not receive the link or have any questions, please reach out to Lost Oak Winery at sales@lostoakwinery.com or call (817) 426-6625.
Lost Oak Winery, located in Burleson TX, was founded by a leading advocate for and member of the winery community in Texas: Gene Estes. Gene joined the Texas Wine and Grape Growers Association (TWGGA) in 1979 when there were only seven wineries. That number grew to 70 wineries in 2003, and to over 275 today. (Texas is now the 5th largest wine producing state next to California, Oregon, Washington and New York.)
Thank you to our host for this event, Ray Loggins ALM '16, our resident Epicurean and a food and beverage insider. Please reach out to him if you have questions about this event or ideas for future Food and Wine SIG events! raylan.loggins@yahoo.com
We warmly welcome all members of the Harvard Club, HBS Club of Dallas and Yale club of Dallas.