2021 Travel to Big Bend National Park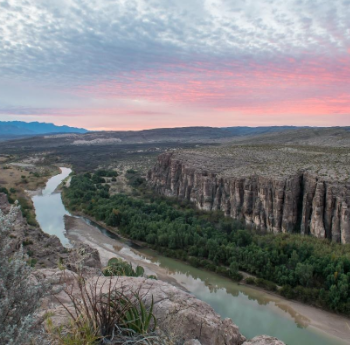 Please note that in order to maintain social distance, this will be a self-drive trip. (Last year, by contrast, the group traveled together in a van). For those who are interested, Andy will lead a group caravan out of Dallas, but there is also the flexibility to fly to Midland or El Paso and drive yourselves from there. There will still be outdoor photo instruction and educational hikes with a naturalist. Andy Coleman has had success with this format from recent group photography trips, including a nature photography trip in Jackson Hole, Wyoming.
Join us for this exciting trip to one of America's best-kept secrets! Named for the curving path of the Rio Grande river marking the border between Texas and Mexico, Big Bend National Park is one of the largest and most diverse parks in the country. Most major ecological zones exist side by side here, ranging from arid deserts to verdant mountain forests. The Big Bend area of West Texas is known for its fascinating geology, diverse biology, and vast open spaces. Rugged peaks, chiseled canyons, unique desert plant life, and the darkest of skies make this region a rate gem for photographers of all levels.

DETAILS:
Dates: February 25 - 28, 2021
Location: Big Bend National Park
Maximum participants: 8

Cost: Per person $850 ($300 singles supplement)
Deposit: $200 per person to reserve a spot. Deposit is fully refundable up to one month before the trip. Full payment due one month prior to departure (January 25, 2021)
You may pay with a PayPal account or with a credit/debit card.
Email Andy Coleman for more details.

If you would like to make other payment arrangements, you may contact Andy Coleman at andycolemanphotography@gmail.com.
If you are interested in other trips with Andy, please reach out to him as well. One trip currently scheduled with openings is a Wildlife and Maasai culture photography expedition in Tanzania with Visit Natives - August 3-9, 2021
"I am teaming up with a company called Visit Natives (visitnatives.com) for this unique expedition in Tanzania. Like many countries in sub saharan Africa, Tanzania is open and is safely running safaris. During our journey, we stay and sleep in a tent in Maasai villages inside the Ngorongoro Conservation Area and Mto Wa Mbu. We have a rare opportunity to experience the authentic and vibrant Maasai way of life while encountering amazing wildlife. We make bush walks with the Maasai warriors where you have a chance to observe wildlife on foot and make a full day game drive inside the Ngorongoro Crater. We also visit Lake Manyara and Tarangire National Parks on game drives. We will dine every night under the beautiful African sky full of stars. We will be off the grid, immersing ourselves in amazing African nature and fascinating Maasai culture.
Since this is such a long way to travel, I will help plan extensions in the region after this trip to help you maximize your time in Africa - ranging from a more traditional safari in the Serengeti, climbing Kilimanjaro, or hitting the beaches of Zanzibar.
They are making some last minute changes to the itinerary, but you can see a general outline on the Visit Natives website at - https://www.visitnatives.com/book-maasai"
All cancellations must be submitted in writing (email or mail) to Andy Coleman Photography. Per person cancellation fees are based on the date of the cancellation notice reaching Andy Coleman Photography as follows: More than 90 days prior to departure, a full refund of deposit. Cancellation between 90 -31 days, 50% of the tour price is forfeited unless your spot is filled by someone from the waitlist. Cancellation within 30 days of departure, no refund, unless your spot is filled with someone from the waitlist. Cancellation on the day of departure or after the tour departs, no refund. No refunds for unused portions of the tour, including but not limited to missed meals, hotel nights, and sightseeing. Cancellation of program by Andy Coleman Photography, full refund. Reservations are not transferable without the explicit approval of Andy Coleman Photography and Harvard Club of Dallas.