Holiday Lunch with Ambassador Ron Kirk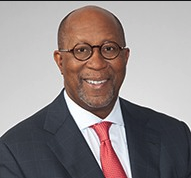 Please join us for a very special holiday lunch with one of Dallas' most distinguished leaders, Ambassador Ron Kirk. As an exceedingly popular former mayor of Dallas, he was a coalition-builder who united a deeply divided city, as well as a city-builder, who helped usher in an era of great growth in Dallas. From the American Airlines Center to policies that put Dallas on the business world stage, he was a pioneer in making Dallas the thriving and successful city it is today.

A pro-business and pro-trade advocate, Ambassador Kirk's post-mayoral career included work as the United States Trade Representative under President Barack Obama. During his tenure, he was the only U.S. Trade Representative in history to negotiate three free-trade agreements in one year (with Panama, Colombia, and Korea), as well as a renewal of the Trade Adjustment Assistance program for workers.

Ron Kirk attended Austin College and the University of Texas School of Law, and was also a visiting fellow at Kennedy School IOP in 2003. He was Secretary of State for Texas prior to being elected as Dallas Mayor, a position he held from 1995-2002. His subsequent career has focused on law and international trade, and included work as the United States Trade Representative from 2009-2013.

Whether you lived in Dallas when Ron Kirk was mayor, or if you're newer to town, we hope you can take this opportunity to meet, up close and personal, a true Dallas icon.

DETAILS:
Date: December 3, 2019
Time: 11:45 am - 1:00 pm
Location: Dallas Petroleum Club, 2200 Ross Ave, Dallas, TX 75201 (40th Floor, West Rooms)
Cost:
Harvard Club of Dallas Patron Members: FREE
Harvard Club of Dallas Regular Members: $35
HCD Member Guest/Spouse: $40
Harvard Young Alum: $20
Non-members: $40
Harvard Business School Club of Dallas Members: $35