CRAFT - Choreography & Cocktails: Behind the Scenes with Bruce Wood Dance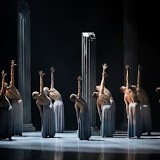 Click here to buy tickets!!!
Or we are happy to assist with your registration - email admin@harvardclubofdallas.com or call (469) 431-1436.

CRAFT: Cocktails + Choreography is a unique behind-the-scenes opportunity to experience the dance-making process with one of Dallas' premier dance companies, the dynamic Bruce Wood Dance. Together in the studio, the room where it all happens, Artistic Director Joy Bollinger will demystify the dance experience. She'll share insights about the craft of making a particular dance and see how metaphors and messages are translated into movement. The evening begins with mingling and reception (with food and cocktails), followed by the dance experience including a Q&A with the dancers and choreographer.

Bruce Wood Dance, described by KERA's ArtandSeek.org as "emotionally charged and highly kinetic," is a dynamic, compelling, contemporary dance company built on the vision and artistry of acclaimed Texan choreographer Bruce Wood®. Hailed as Dallas' premiere dance company, BWD is known for its emotionally moving choreography, poignant imagery, and intimate partnering revealing the loves and losses of life. Led by artistic director Joy Bollinger, BWD carries on the legacy of Wood's humanistic dances and the repertoire boasts new works by award-winning choreographers such as Bryan Arias, Kate Skarpetowska, Yin Yue, and Garrett Smith and resident and acclaimed resident dance-makers. Singled out as "Dallas' shining star" by Arts and Culture Texas, BWD celebrates 10 years in 2020. www.brucewooddance.org.


DETAILS:
Date: September 26, 2019
Time: 6:30 pm - 7:45 pm
Location: Bruce Wood Dance Gallery, 101-103 Howell Street, Dallas TX
Cost: $20/person; $10/person for young alums
When:
6:30PM - 7:45PM Thu 26 Sep 2019, Central timezone

Where:
Bruce Wood Dance Gallery
101-103 Howell Street
Dallas, TX
[ Get Directions ]