Lunch with Michael Sorrell, President Paul Quinn College: The Future of Higher Education & the Urban Work College Model
If you have issues purchasing tickets on the website or prefer to purchase over the phone, please call 469-431-1436.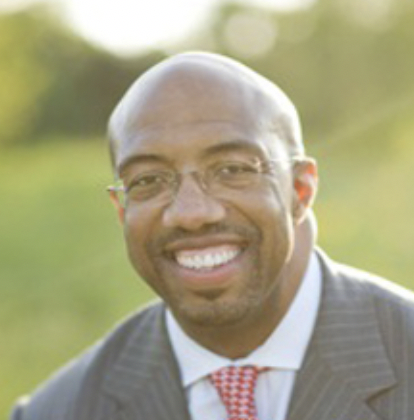 On September 4, please join our first lunch of the new club year with one of the most inspiring and innovative leaders in education today: Michael Sorrell, President of Paul Quinn College. From the time he took the helm in 2007, he has not only turned around a nearly bankrupt school that was near to closing its doors to the disadvantaged South Dallas community it served, but he has also created an even greater effect on higher higher-education today: the "new urban work college model" of an urban work college

Coming into his role, he faced many challenges, including tackling a "culture of mediocrity"; facing sacred cows such as the football program (which he closed, in the process converting the football field into a community garden); and evolving the liberal arts curriculum to increase focus on career skills, including incorporating part-time work and internships. Going forward, he has plans to export the model around the country. There are great opportunities given the many challenges facing higher education generally, and disadvantaged students in particular.

Michael Sorrell earned a bachelor's degree from Oberlin College, a Sloan Fellowship at Harvard, master's degree (M.A. in Public Policy) and law degree from Duke University, and a PhD in education from the University of Pennsylvania. He has worked as a lawyer and public affairs consultant; was part of a potential ownership group that put in a bid for the Memphis Grizzlies; and was involved with the sale of the Dallas Mavericks to Mark Cuban. He's received numerous awards and accolades, including being listed as one of the "World's 50 Greatest Leaders" by Fortune Magazine and one of "America's 10 Most Innovative College Presidents" by Washington Monthly.
DETAILS:
Date: September 4, 2019
Time: 11:45 am - 1:00 pm
Location: Dallas Petroleum Club, 2200 Ross Ave, Dallas, TX 75201
Cost:
Patrons: FREE
Members: $35
Harvard Young Alum: $20
Harvard School of Education and other working as educators: $20
Duke Alumni: $35.00
Guests and non-members: $40
NOTE: If you have any food allergies or special dietary needs, please contact admin@harvardclubofdallas.com by Sept. 3rd.