Krokodiloes Performing in Plano! yes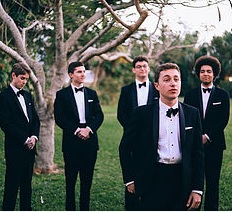 The Krokodiloes, Harvard's world-renowned a cappella singing group, will be performing an hour-long benefit concert on Tuesday, January 15, 2019, at 7:30 p.m. in the Christ United Methodist Church at 3101 Coit Rd, Plano, TX 75075. A Q&A session will follow the performance. Proceeds will fund The Kroks' 2019 world tour, relief efforts in Puerto Rico, and Christ United Methodist Church's outreach initiatives.

Having sung for royalty, celebrities, presidents, and ambassadors in over 100 countries, this 12-man group of Harvard undergraduates brings a delightful blend of tight harmony and clever humor to audiences all over the world. Last year's world tour saw The Kroks perform in 18 countries over 11 weeks. This January, they're excited to sing for you right here in Plano, Texas!

.
Date: January 15, 2019
Time: 7:30 - 8:30 pm
Location: Christ United Methodist Church, 3101 Coit Rd, Plano, TX 75075
Cost:
Adults: $20
Children: $10
When:
7:30PM - 8:30PM Tue 15 Jan 2019, Central timezone

Where:
Christ United Methodist Church
3101 Coit Rd
Plano, TX 75075
[ Get Directions ]