Ending Mass Incarceration: Lunch with Dallas' Newly Elected DA, John Creuzot

Click here to buy tickets!!!
If you have issues purchasing tickets on the website or prefer to purchase over the phone, please call 469-431-1436.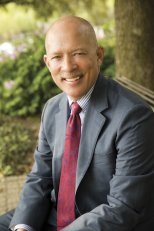 As our country grapples with mass incarceration, come join us to discuss the issues and possible solutions with a nationally recognized leader of judicial reform, newly elected Dallas District Attorney, John Creuzot. What can and should our country and judicial system do to work toward ending mass incarceration?

An award-winning lawyer and retired Judge, Creuzot has more than 30 years of experience in the criminal justice system, including service as a Dallas County Assistant District Attorney and Chief Felony Prosecutor, private practice as a criminal defense lawyer, and more than 21 years as a felony district court judge. His accomplishments include establishing one of the first specialty courts for drug offences (known as DIVERT); having a role in helping to reduce statewide prison populations; and changing perspectives of many regarding how to treat drug use cases (moving from considering them as criminal justice problems to public health problems). He also established the Substance Abuse Felony Punishment Facility Re-Entry Court in 2001, a program dedicated to helping formerly-incarcerated individuals adjust to normal life and work.

John Creuzot was born in New Orleans and spent his youth in Houston before coming to the Dallas area in the 1970s and graduating from the University of North Texas in 1978 and Southern Methodist University School of Law in 1982. He is the recipient of numerous awards, and is a member of many select professional boards and commissions.

Date: April 3, 2019
Time: 11:45 am
Location: Dallas Petroleum Club, 2200 Ross Avenue, Dallas, TX 75201
Cost:
Patrons: FREE
Members: $35
Guests and non-members: $40