LUNCH WITH JERRY JONES, JR.
Please join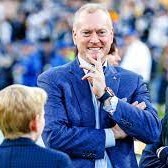 us for a wide-ranging discussion with Jerry Jones Jr, including plenty of time for Q&A, about all things Cowboys: their business empire, brand, real estate juggernaut, and of course sports.

For example:
What is going on with the explosive growth of The Star in Frisco?
How did The Cowboys become ranked in 2022 as the most valuable brand in the NFL, and by many estimates, "America's Team"?
How is the brand now being expanded internationally?
What's being planned for the upcoming NFL season?

Come with questions prepared and a hearty appetite for the lunch buffet at the Arts District Mansion. We invite all to arrive at 11:30 to grab food and get seated. The program will start at noon and last until 1:00PM

Space is limited, so early registration is only available for Harvard Club members and one guest each. Non-members are welcome to purchase any remaining tickets 2 weeks prior to the event.

About Jerry Jones Jr:
As Executive Vice President and Chief Sales and Marketing Officer, Jerry Jones Jr. is a key member of the Dallas Cowboys front office, overseeing the club's entire sales and marketing efforts. Jones was instrumental in the design and planning of AT&T Stadium, viewed as one of the world's truly unique sports and entertainment venues, as well as the team's new state-of-the-art training complex - The Star - which opened in Frisco in 2016.

In his current role, Jones is the guiding force behind all of the club's sales and marketing efforts, both those directed at the team's loyal fans as well as its corporate partners. With the Cowboys unique vertical structure, Jones leads a team that is not only responsible for the sales and marketing of the club, but also its vast merchandising business as well as all digital and broadcast media. Jones currently serves on the League Digital Media Committee.

More details on Jones' extensive background and responsibilities can be found here. He is also linked to our Harvard community through one of his daughters who is a current student at Harvard Law School!

DETAILS:
Date: October 12, 2023
Time: 11:30 am - 1:00 pm (Buffet opens at 11:30. We hope this provides everyone time to get their food and find a seat before the program starts at noon)
Location: Arts District Mansion (formerly Belo Mansion), 2101 Ross Avenue, Dallas, TX 75201
Parking: $10 in the building for non-DBA members
Cost for Tickets:
HCD Patron Members: FREE

HCD Regular Members/Parents & Spouses: $45

HCD Recent Grad Members: $40

​​​​​​​HCD Recent Grad Member's Guest: $40

Non-Member (tickets open September 28): $65

HBS Member: $45

HBS Non-Member Guest: $65
Not a member and want to join to enjoy 12-months of benefits? Please click here.
If you would like information on upgrading your membership, please contact Velda
Call or email: 469-431-1436 or velda@sacleadership.com.