Tour of South Dallas Businesses Led by Local Business Leader
On November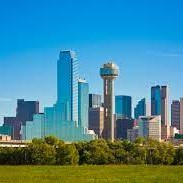 4th, the Harvard Club and HBS club will have the opportunity for a private, capacity-limited tour to meet South Dallas entrepreneurs and business owners. The event is capped at 23 participants.

The tour will be led by long-time resident and local business leader, Curtis Corbin, and will be modeled after the tours he leads for the Dallas Regional Chamber. The focus will be on meeting locally owned for-profit businesses that have been having success and are focused now on future growth.

During the tour, we will be traveling together in a bus supplied by Curtis Corbin and will be stopping for quick visits at the businesses (enough time to spark future, individual conversations). We'll have a lunch catered by a locally owned restaurant with presentations and discussion. Mr. Curtis will travel with us to provide context and answer any questions.

The tour is set up to be a great networking opportunity. Some may also find mentoring-relationship, investing, or other business opportunities.

We realize this is a longer event than many other Harvard Club or HBS events. So, if you have any questions or suggestions for how the day can be particularly helpful for you, or if you need any accommodations or flexibility, please don't hesitate to reach out to Rebecca Posten at Rebecca_posten@yahoo.com, or Brian Buffington at bbuffington@ymail.com.
Curtis Corbin is the CEO and Founder of C Lee Transportation. He has been a community advocate and servant leader for over 30 years, deeply involved in community work in South Dallas. In 2015, Mr. Corbin was inspired to launch Southern Dallas Link, a C. LEE Transportation non-profit organization, after a conversation with Dallas Mayor Mike Rawlings. The mayor expressed concerns about matching work opportunities with workers: while there were warehouses and employers in need of a consistent workforce, their locations were outside of public transportation systems. Southern Dallas Link was created to link residents in the southern sector of Dallas to reliable transportation necessary to get to jobs that pay a living wage. This 501c3 corporation also provides rides for medical care for Seniors, pre and post-natal visits, and kids from South Dallas attending summer day camps.

Anyone interested in learning more about C Lee Transporation and Southern Dallas Link, is warmly invited to reach out to Curtis Corbin at CLeeTransportation1@gmail.com.

DETAILS:
Date: November 4, 2022
Time: 9:30 am - 2:30 pm CT
Pick-Up Location: The bus will pick us up at Target Cityplace Market, 2417 N. Haskell Avenue, Dallas, TX 75204. Please email Rebecca Posten if you have questions or if you need accommodation or flexibility during the day.
Cost: $35.00 (Includes lunch)
Questions: Email Rebecca Posten at Rebecca_posten@yahoo.com, or Brian Buffington at bbuffington@ymail.com