Cocktails at Omni Hotel: Celebrating the Past, Present, and Future of the Dallas Convention Center (FREE event)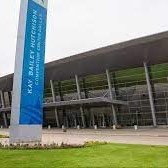 Join us for an exciting presentation by Craig Davis, CEO of VisitDallas and Brian Luallen, Chief Executive Officer Fair Park First, followed by a tour of the Kay Bailey Hutchison Convention Center. Wine and hors d'oeuvres will be served. There is no cost for the event.

Dallas City Council approved a measure on the upcoming November 8th ballot that would allow for the planning, financing, and construction of an expansion of the Kay Bailey Hutchinson Convention Center, which will be partly financed by an increase in the hotel occupancy tax paid by visitors to Dallas. The measure, which passed council in February 14-1, will allow voters decide on whether to raise the total tax paid on a hotel room from 15 to 17%.

The measure, if passed, would authorize $1.2B in financing for the center, as well as $330M in upgrades and improvements at Fair Park: the site of the Texas State Fair, Cotton Bowl Stadium, museums, entertainment venues, and potentially the International Broadcast Center for the 2026 FIFA World Cup.

The speakers will discuss the pros and cons of the ballot measure, along with the details of the future facilities and how they can impact the future growth of Dallas. Arthur Hollingsworth AB'85 P'23, a former Chairman of Visit Dallas will be our host and can answer questions ahead of time at ah@texasprivateequity.com, or at the event.

The Club is grateful to Arthur Hollingsworth for sponsoring this event.

DETAILS:
Date: Wednesday, October 19, 2022
Time: 6:00 pm CT
Location: Omni Dallas Hotel, 555 S. Lamar St., Dallas, TX 75202
Cost: FREE
*PLEASE RSVP below
Questions: Email ah@texasprivateequity.com
When:
6:00PM - 8:00PM Wed 19 Oct 2022, Central timezone

Where:
Omni Dallas Hotel
555 S Lamar St.
Dallas, TX 75202
[ Get Directions ]
RSVP Here...