Parks in Dallas - The Transformational Greening of our Fair City with Southern Gateway Park

** Early Bird Ticket Deadline: Thur., March 24 at noon **
Please join us to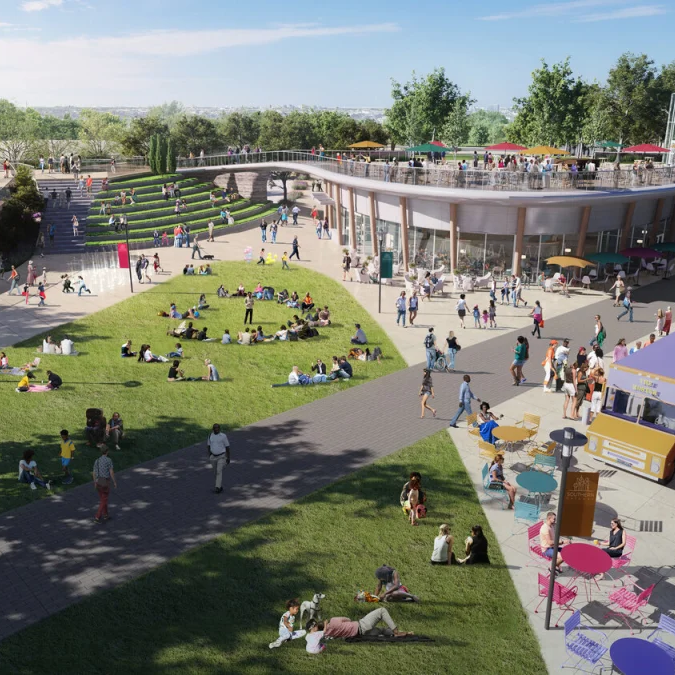 discuss the critical importance of parks and public places in the development of exceptional, inclusive, and successful modern cities. We will focus on projects underway in Dallas such as the transformational Southern Gateway park project (a sort of "Klyde Warren Park" in South Dallas). Presenting will be two of our fellow Harvard alums: April Allan, President and COO of the Southern Gateway Public Green Foundation, and Mike Ablon, a long-time and innovative developer in Dallas who is on the Southern Gateway park board.

From our vantage point up in the Petroleum Club we'll also be able to see a first-hand birdseye view of the great development areas and opportunities.

April Allen Is the President and COO of the Southern Gateway Public Green Foundation. She is leading the development of the Southern Gateway Park, a "park with a purpose" currently under construction over Interstate 35E adjacent to the Dallas Zoo. It is an historic infrastructure investment that will knit West and East Oak Cliff back together and catalyze transformation in Southern Dallas. Her deep Oak Cliff community roots, business acumen, and non-profit leadership successes make her the ideal leader for the organization at this critical time.

April received a B.Sc. in Mechanical Engineering from the University of Waterloo and an M.B.A from Harvard Business School. She is an alumnae of Leadership Dallas and The OpEd Project through the Texas Women's University Public Voices Thought Leadership Institute, where she published editorials with local and international media. April was named one of Dallas' 30 Most Interesting People by the Dallas Observer in 2012.

She is a native of Toronto, Canada and has happily made her home in Oak Cliff for over 15 years. She and her husband Sean are active members of the Concord Church of Dallas, TX and proud parents of their sons, August and Ellis.

Mike Ablon is a founding partner of PegasusAblon, a multidisciplinary developer and investor focused on the integration of emerging markets with evolving demographic trends. Mike has completed numerous noteworthy projects, including leading the redevelopment of the Dallas Design District into a vibrant neighborhood with showrooms, galleries, unique restaurants, local retailers, and loft apartments while maintaining the history and vibe of the district's past. In addition to the Design District, PegasusAblon has led the dominant repositioning of the Preston Center Office Submarket. Mike Ablon's multifamily experience includes the creation of highly innovative developments in the Design District, the high-growth Frisco submarket, and other urban/suburban cores throughout the Metroplex.

PegasusAblon has a reputable award-winning focus on quality and is honored to have been recognized for Best Multifamily Design Projects, Dallas Regional Chamber Momentum Award for Public-Private Partnerships, DBJ Best Deal Award multiple times, named one of the 100 Fastest Growing Companies, and named the #1 Best Place to Work in DFW for small companies. Mike Ablon's work within PegasusAblon has led to the completion of almost $1 Billion of investments in DFW since its inception in 2007.

Mike Ablon received his Bachelor of Engineering and Bachelor of Architecture degrees from the University of Texas at Austin, and earned his Master's degree from Harvard University. Early in his career, Mike Ablon worked as an apprentice under the world-renowned theorist and architect Robert Venturi in Philadelphia and has been a visiting lecturer at multiple universities including Harvard and Yale. Prior to founding PegasusAblon, Mike Ablon held senior positions at The Perot Group, CarrAmerica, Cousins Properties, and The Retail Connection.

Among other awards and recognitions, he is a recipient of the Lloyd Warren Travelling Fellowship in Europe for the Paris Prize Competition, a two-time finalist for the Fulbright United States Scholar Fellowship, named one of the 500 Most Powerful Business Leaders in Dallas/Fort Worth, and the first recipient of the Pioneer Award in Dallas.

Mike Ablon has consistently been heavily involved in the community, placing his time and focus in both public community and non-profit programs. Mike Ablon's non-profit volunteer work includes acting as the Vice-Chairman of a 501c3 Seniors Facility Development as well as 20 years of Board & Executive Committee positions at the Real Estate Council & its Foundation. Mike Ablon has also been involved in the State Fair of Texas poultry exhibition, carrying on a 100-year family tradition of raising money and assisting with the exhibits. Mike Ablon additionally has served as a founding member and Chair of the Trinity River Corridor Local government Corporation. The Trinity River LGC is the 501c3 formed on behalf of the Dallas City Council to lead the long-awaited and discussed development of the new Trinity River Harold Simmons Park for the citizens of Dallas.

DETAILS:
** Early Bird Ticket Deadline: Thur., March 24 at noon
Date: March 25, 2022
Time: 11:45 am - 1:00 pm
Location: Dallas Petroleum Club, 2200 Ross Ave, Dallas, TX 75201
Cost for Early Bird Tickets:
Harvard Club of Dallas Patron Members: FREE

Harvard Club of Dallas Regular Members: $35

Harvard Recent Grads: $25

Guest/Non-Member: $45
** Prices go up $10 for every ticket after noon on March 24, 2022.
Questions: Call or email: 469-431-1436 or velda@sacleadership.com.