November Book Club Meeting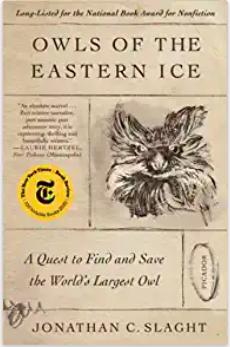 The November meeting of the Book Club will be on November 10 at 7:30 p.m. at the home of Lee Loewenstein. November's book will be Owls of the Eastern Ice by Jonathan Slaght. The book deals with the adventures of a field biologist and conservationist on the tracks of the elusive Blakiston's Fish Owl in the forbidding reaches of eastern Russia. Please RSVP to Lee Loewenstein at lee.loewenstein@gmail.com if you plan on attending. Lee will provide his address to any newcomers.Please bring a mask.
The Book Club generally meets on the second Wednesday of each month. For those who like to read ahead, in December we will discuss the play Blithe Spirit by Noel Coward and The Code of the Woosters by P.G.Wodehouse in a humorous double feature.
DETAILS:
Date: Wednesday, November 10, 2021
Time: 7:30 pm
Location: Home of Lee Loewenstein. Address will be sent to any newcomers. Please bring a mask.
Cost: FREE
For more information about the Book Club please contact Lee Loewenstein at lee.loewenstein@gmail.com or Adrienne Dominguez at adrienne.dominguez@tklaw.com.