Richard Fisher, Former Pres. of Dallas Federal Reserve: Future of the US Economy & Fed Policy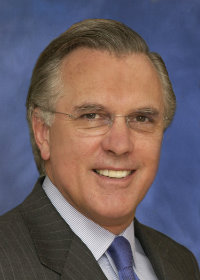 This Event is SOLD OUT
Join us to hear insights from the former President of the Dallas Fed on the future of the US economy and Fed Policy as well as his lessons learned as a member of the Harvvard Board of Overseers.
Throughout his career working in investment banking, with the US Treasury, as a trade representative (including working on NAFTA and with the WTO), and as President of the Federal Reserve Bank of Dallas, Richard Fisher has always been outspoken and insightful. (Look up his precience on topics such as the housing crisis). When our club last heard from him, he was still with the Federal Reserve Bank and a Harvard Overseer. He was, as always, thought provoking, fascinating and entertaining. Now that he has stepped into the next phase of his career, we are excited to have him join us to give us an update.
A first-generation American, Fisher is equally fluent in Spanish and English. Throughout his career, he has served on numerous for-profit and not-for-profit boards. He also has maintained his academic interests, teaching graduate courses and serving on several university boards. He has received many awards over the years, including the Service to Democracy Award and Dwight D. Eisenhower Medal for Public Service from the American Assembly. In April 2009, he was inducted into the Dallas Business Hall of Fame.
We also warmly welcome our friends at the Yale Club of Dallas to join us at this special lunch to kick off 2019!

Date: January 9, 2019
Time: 11:45 am
Location: Petroleum Club, 2200 Ross Avenue, Dallas, TX 75201
Cost:
Patrons: Free
Members: $35
Yale Club Member Special Guests: $35
Guests and Non-members: $40
When:
11:45AM - 1:00PM Wed 9 Jan 2019, Central timezone

Where:
Petroleum Club
2200 Ross Avenue
Dallas, TX 75201
[ Get Directions ]