"Harvard Beats Yale 29-29": Documentary Screening & Intro by Award Winning Author George Colt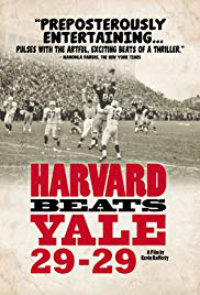 Join us for a screening of the documentary "Harvard Beats Yale," with introduction by its award winning author George Howe Colt.
In November the Harvard-Yale Players will be gathering at Fenway Park for events celebrating the 50th anniversary of the most famous Harvard-Yale game ever played. Among the events in Cambridge will be a showing of the award-winning documentary, "Harvard Beats Yale 29-29", and an introduction to Life Reporter and award-winning Harvard Class of "76" author, George Howe Colt's new book, " THE GAME; Harvard, Yale and America in 1968".
This opportunity is being brought directly to our club here in Dallas at Studio Movie Grill!
Bob Dowd Harvard Club of Dallas member and former Chairman of the Dallas School Committee, a starting Tackle on the 29-29 Game, has arranged with CEO Brian Schultz to have a free admission showing of "Harvard Beats Yale 29-29", at the Royal Lane location of the Studio Movie Grill on November 8th, 2018 at 7:30 PM. Mr. Colt has consented to fly to Dallas to attend the showing and to introduce his book to the Dallas Harvard Club. The New York Times Editor, who reviewed the Documentary, published the comments that she hated Football, that she never watches Football, but that the 29-29 Documentary was "Preposterously Entertaining". The events of 1968 with the assassinations of Robert Kennedy, Martin Luther King, campus takeovers, the War in Vietnam etc. and the comments in the documentary by St Mark's Tommy Lee Jones, Harvard Guard, will make for an entertaining and informative evening.
The usual food and drink offered by the Studio Movie Grill will be available to all but not included in the free admission; Theatre seating for the showing is limited.

Date and Time: November 8, 7:30 p.m.
Location: Studio Movie Grill, 11170 N. Central Expy, Dallas, TX 75243
Cost: Free. RSVP required below.
(Food and drink not included in free admission.)
When:
7:30PM - 9:30PM Thu 8 Nov 2018, Central timezone

Where:
Studio Movie Grill
11170 N. Central Expressway
Dallas, TX 75243
[ Get Directions ]
RSVP Here...