Mid-Winter Dinner at Cafe Momentum - Chef Chad Houser Speaking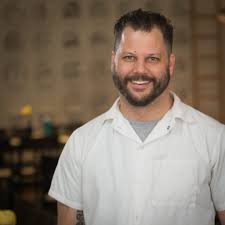 This year we welcome everyone to join our annual mid-winter traditional meal at Cafe Momentum. Founded by award winning chef Chad Houser, the 501(c)(3) non-profit restaurant is also a culinary training facility which "transforms young people's lives by providing a positive environment in which at-risk youth who have spent time in juvenile facilities receive intensive culinary, job and life-skill training, as well as continued mentorship and support, enabling them to achieve their full potential."

At dinner we will be joined by the restaurant's founder, Chef Chad Houser, an inspiring, charismatic, and passionate speaker who will talk with us about their unique work and mission teaching social, life and employment skills to Dallas' most at-risk youth.

Before moving his attention in 2012 to focus full-time at Cafe Momentum, Chad Houser worked for 17 years as a chef. He has received multiple recognitions for his achievements including multiple Chef awards from D Magazine; a feature in Starbucks production Upstanders, a series created to shine a light on stories of everyday Americans who are doing extraordinarily courageous things; Local Hero award from Edible Dallas/Fort Worth; DBJ's "40 under 40" award; and many other awards for his outstanding work.

To get a little more of the flavor of this fabulous restaurant, Click HERE for a short video made by fellow club member Scot Miller!
Date: February 20, 2019
Time: 6:00 pm arrival, 6:30 pm seated for dinner
Location: Cafe Momentum, 1510 Pacific Street, Dallas, TX 75201
Cost: $80 per person plus cash bar

Click here to buy tickets!!!
If you have issues purchasing tickets on the website or prefer to purchase over the phone, please call 469-431-1436
When:
Wednesday, 02/20/19 at 6:00pm | iCal
Where:
Cafe Momentum
1510 Pacific Street
Dallas, TX 75201
[ Get Directions ]